An important part of many dogs' regular grooming needs involves keeping their ears clean for both health and hygienic reasons. Not all dogs need routine ear cleaning, but many do to help prevent ear infections. Using the best ear-cleaning solutions can remove excess wax, dirt, and other irritants that can cause bacterial, yeast, and fungal infections. We've researched dozens of dog ear cleaners to help you narrow down your best options. We think the best dog ear-cleaning solution is Virbac, but we have some other options for specific needs too.
At A Glance: Best Ear Cleaners For Dogs
Why Is It Important To Keep My Dog's Ears Clean?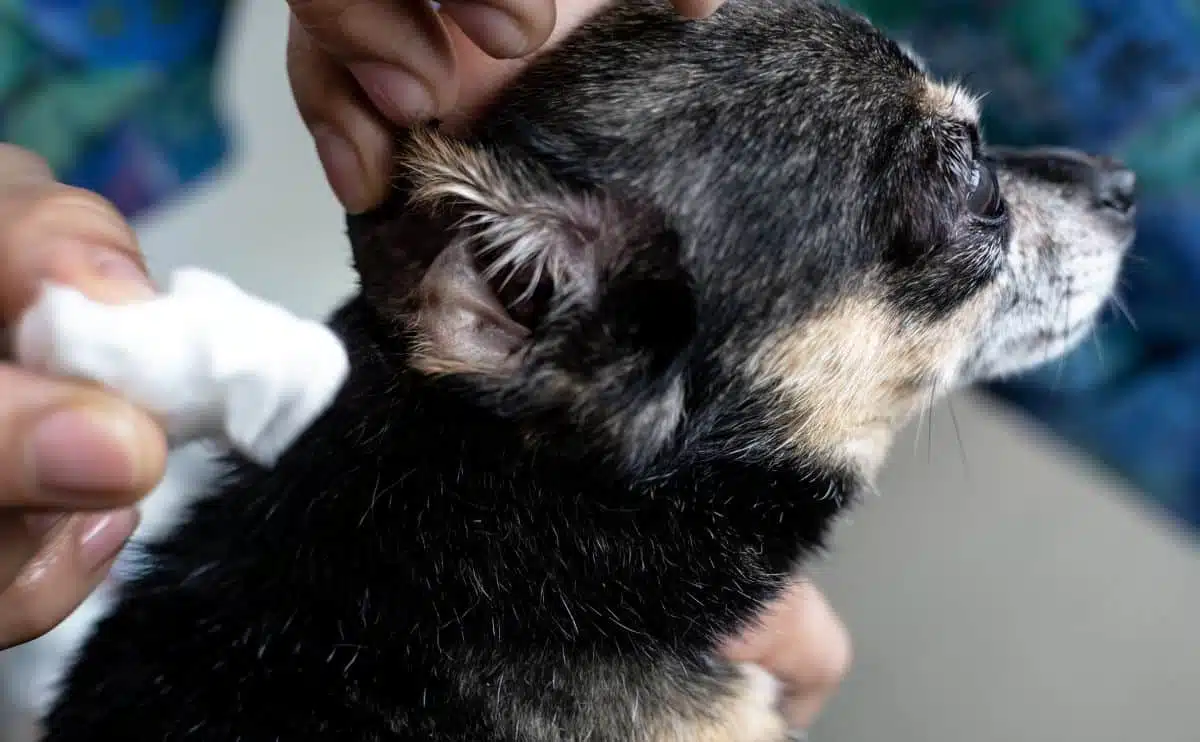 "Keeping your dog's ears clean is so important because a build-up of wax or debris can lead to inflammation or infection," says Dr. Hannah Godfrey, BVetMed, MRCVS, a small animal veterinarian in Cardiff, Wales. "This is particularly important for breeds with hairy ear canals, like Poodles and Bichons, because the hair traps dirt and prevents ventilation."
But Dr. Godfrey adds that the type of cleanser you use is just as important as keeping them clean. "While wipes can be useful for cleaning around the entrance of your dog's ear canals, they're not particularly effective for getting dirt and wax from deep down. Therefore, I recommend an ear-cleaning solution. Most will be gentle and have a similar pH to the lining of your dog's ears, and they work by emulsifying the wax to break it up and help it work its way out."
Best Dog Ear Cleaning Solutions
We've chosen our top picks and based our reviews on the quality of ingredients, efficacy, pricing, customer feedback, and other factors.
Best Overall Ear Wash For Dogs: Virbac Epi-Otic Advanced Ear Cleanser Review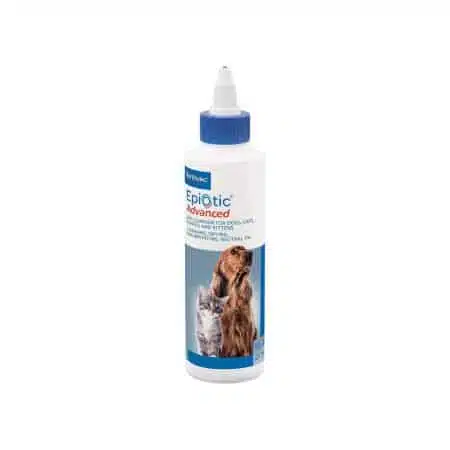 View on Amazon | View on Chewy
This vet-recommended dog ear cleaner is one of the most popular and effective solutions you'll find. It's excellent at removing wax, dirt, debris, and foul odors while keeping the ear canal dry. With 0.2% salicylic acid and other vet-formulated ingredients, this cleanser is mild and non-irritating and has a low pH, so it's safe to use along with ear infection treatments.
Made in the USA, Virbac Epi-Otic is a fantastic choice for routine cleanings of dogs and cats with sensitive ears as well as pets with chronic otitis externa (ear infections). It has anti-adhesive glycotechnology to help prevent microbes from attaching to the ear canal, which can cause ear infections. Some users say the scent is a bit strong, but most rave about this cleanser.
Personal Experience With Virbac Epi-Otic
"Every few months, we would notice a slight odor and some head shaking from Storm, our black lab. So when we noticed this, we would wait for him to lie down and relax. Then we gently squirted Virbac's ear-cleaning solution into his ear and massaged it for 30 seconds or so. After he naturally shook his head to get rid of the solution, we took a clean cotton ball and softly wiped the ear canal in areas without going in very deep. This process was quick, painless, and keep ear infections at bay."

– Michelle Schenker, Canine Journal co-founder and mixed-breed rescue parent
Price
Best Dog Ear Cleaner For Yeast & Bacterial Infections: Zymox Otic Enzymatic Solution Review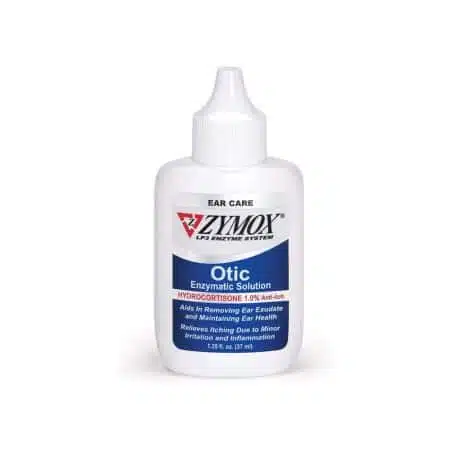 View on Amazon | View on Chewy
Another popular vet-recommended solution, Zymox is ideal for pets with chronic ear infections caused by bacteria, yeast, and fungi, but you can also use it as a routine cleaner to help prevent irritation and infections. It contains a patented L3 enzyme system, which includes three active enzymes that have been shown to have antibacterial, antifungal, and antiviral properties.
Made in the USA, this no-sting, non-toxic dog ear solution also contains 1% hydrocortisone to give your pup some relief from itching and inflammation. It is expensive, however, so if your pup doesn't suffer from chronic ear infections, you may want to choose a more affordable solution for routine ear cleaning.
Price
Best All-Natural Ear Wash For Dogs: EcoEars Dog Ear Cleaner Review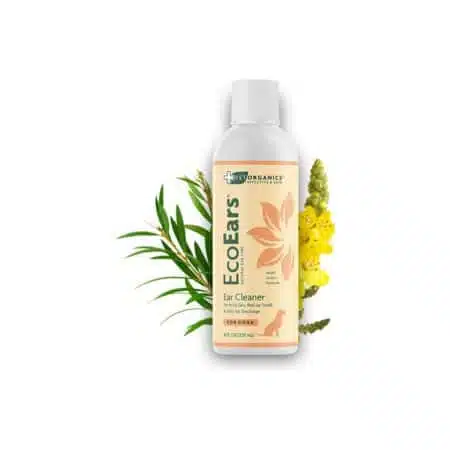 View on Amazon | View on Chewy
Wary of using any kind of pharmaceuticals on your pup? This Vet Organics EcoEars ear flush for dogs and cats contains 100% natural ingredients with no harsh chemicals, antibiotics, cortisone, steroids, or enzymes. Made in the USA in an FDA-registered facility, it includes a botanical blend of organic mullein leaf extract, witch hazel extract, rosemary extract, tea tree oil, and other alternative ingredients that have antifungal properties.
Many owners find that this cleaner is quite effective in breaking down built-up wax, dirt, and gunk in their dogs' ear canals. It's also fantastic at removing foul odors. The major drawbacks of this product are that it contains denatured grain alcohol, which may be irritating to some dogs, and it's not labeled as vet-recommended. So you may want to check with your vet before using this as a replacement for traditional ear cleaners.
Price
Best Ear Wipes For Dogs: PetMD Ear Wipes Review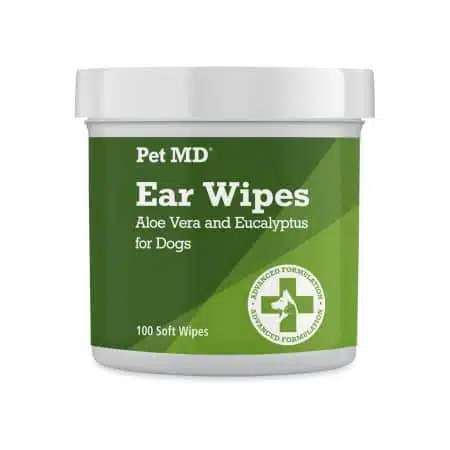 View on Amazon | View on Chewy
Although many vets recommend ear wash for dogs over wipes for a thorough cleaning, pup owners find that these PetMD ear wipes are super convenient for a quick and easy clean. Each wipe is soaked in an alcohol-free formula designed to gently clean, deodorize, and dry your pet's ears. Ingredients include soothing and antibacterial aloe vera and eucalyptus oil, and cleaning/drying agents, such as salicylic acid and lactic acid.
They're made in small batches in the USA in a federally regulated manufacturing facility to ensure the highest quality. The non-irritating, soothing ingredients are gentle enough to use daily if your pup has consistently dirty or smelly ears.
Price
What About Bodhi, PetHonesty, PetLabCo. & Veterinary Formula?
Although the following dog ear cleaning solutions didn't make our top picks, these are all highly-rated, popular choices among pup parents.
Bodhi Dog Pet Ear Cleanser Review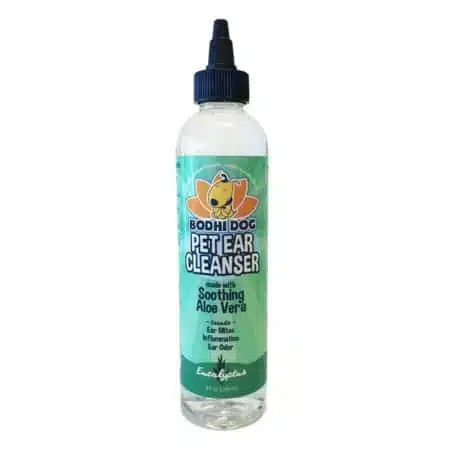 Another all-natural, plant-based solution you may want to consider is Bodhi Dog's alcohol-free ear cleanser. Formulated for sensitive ears, it contains soothing aloe vera and eucalyptus, which also have natural antibacterial properties. Other carefully selected ingredients include glycerine (a natural moisturizer), stearic acid (from palm oil), dioctyl sodium sulfosuccinate (for ear wax removal), and benzoic acid (to prevent infection).
Bodhi Dog makes its products and packaging in the USA using the most socially responsible and eco-friendly methods available. This family-owned small business also offers a 100% satisfaction guarantee.
Price
PetHonesty Otic Ear Cleaner Review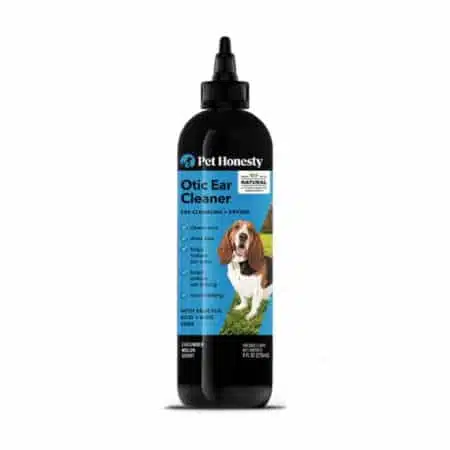 View on Amazon | View on Pet Honesty
PetHonesty's vet-recommended, non-stinging ear cleaner is formulated with a low pH balance to clean, deodorize, and dry your pet's ears for routine grooming use. It includes gentle amounts of salicylic acid and benzoic acid to help with itchiness, odor, inflammation, redness, and wax build-up and to flush out bacteria and other pathogens. Safe for dogs and cats, this ear wash comes highly recommended by pet parents and leaves a pleasing cucumber-melon scent.
PetHonesty makes all of its pet supplements and other products at an FDA-approved facility in the USA and offers a 30-day satisfaction guarantee. It's one of our favorite manufacturers of high-quality dog and cat supplements for everything from allergies and anxiety to joint pain and urinary health.
Price
You can subscribe for auto-shipping and save 20% off the price below.
PetLabCo. Clear Ears Therapy Review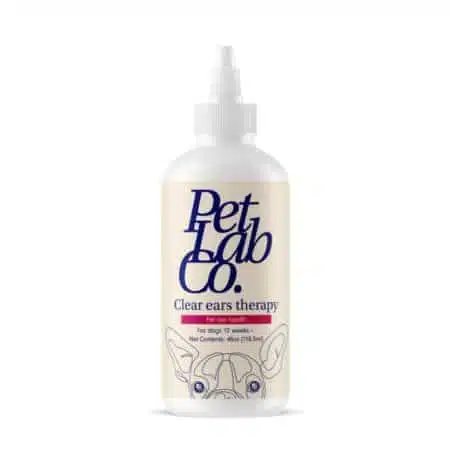 PetLabCo.'s alcohol-free ear flush for dogs is another excellent choice for dogs who get recurring fungal ear infections. It contains 0.15% ketoconazole, an antifungal that vets often prescribe for fungal ear and skin infections. Included salicylic acid, benzoic acid, and glycerin help remove wax, microbes, and discharge while keeping your pup's ear canal skin moisturized but dry enough to keep yeast at bay.
This solution is vet-formulated and recommended, made in the USA, and gets tons of positive customer reviews for everything from relieving itchy ears to infection prevention. PetLabCo. has a well-respected reputation for manufacturing only high-quality, all-natural pet supplements and healthcare products.
Price
Veterinary Formula Clinical Care Ear Therapy Review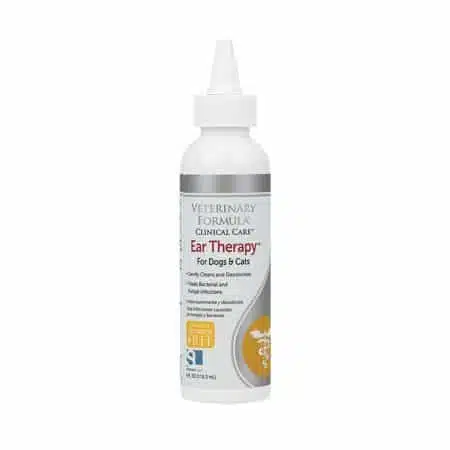 View on Amazon | View on Chewy
One of the top-selling ear washes for pets, Veterinary Formula Clinical Care Ear Therapy is another terrific choice for sensitive ears and is gentle enough for frequent use. It's specially formulated to help alleviate itching and redness in your pet's ear canal and does a fantastic job at removing wax, dirt, and other gunk.
Vet-recommended and made in the USA, this cleanser contains lactic acid to remove excess moisture, anti-inflammatory salicylic acid, and two antifungals, benzoic acid, and ketoconazole, to help prevent and treat ear infections. Although it gets a vast majority of positive customer reviews, some say it was too harsh for their pet's ears.
Price
Best Homemade Ear Cleaning Solution For Dogs
Many veterinarians recommend not using a homemade ear-cleaning solution and sticking with a formula specifically designed to be safe and non-irritating for dogs. "I wouldn't recommend putting anything into your dog's ears without checking with your vet first," advises Dr. Godfrey. "If it's a home remedy, it might not be safe, and if your dog's ears look sore, the eardrum may have burst, exposing the fragile cells of the middle and inner ear."
Still, some vets say using almond oil or olive oil is gentle on the skin and can be effective for regular cleanings. There's conflicting advice about using white or apple cider vinegar — some recommend it (only if diluted with water), while others say it can irritate skin or cause pH imbalances. Most vets advise against using alcohol, hydrogen peroxide, or boric acid.
How Often Should I Clean My Dog's Ears?
Some dogs have naturally clean, healthy ears and may never need cleaning. But a general rule of thumb is no more than once a month or only when needed (e.g., you smell a mild odor or see debris). Over-cleaning can cause the ear canal to become irritated or infected.
However, certain dogs may require more frequent cleaning. These include dog breeds with long, floppy ears, such as Bassett Hounds, Cocker Spaniels, Golden Retrievers, and Labrador Retrievers, dogs with allergies, and those who swim frequently. These factors all lead to a higher risk of developing ear infections. Ask your vet about your pup's specific ear-cleaning needs.
How To Clean Your Dog's Ears (With Video)
Knowing the proper way to clean your pup's ears is just as important as using a high-quality cleansing solution. Check out the video below and our step-by-step guide to make sure you're cleaning safely and effectively.
Does My Dog Have An Ear Infection?
Regular cleaning of your dog's ears is one of the best ways to prevent ear infections in your pup. But even with routine cleaning, some dogs are particularly prone to developing them. That's why it's so important to know the signs of ear infections in dogs. Depending on the type of infection, your pup may need vet-prescribed antibiotics or other treatment.
Tagged With: Comparison, Ears