Groom your dog like a show dog with these dog grooming products from Cherrybrook Pet Premium Supplies – a renowned retailer specializing in high-quality pet products and supplies. Read more about Cherrybrook in our previous posts: 1) 5 Reasons You'll Love Cherrybrook Premium Pet Supplies and 2) Ultimate Dog Grooming Kit.
Disclosure: This post contain affiliate links and I may earn a small commission when you click on the links at no additional cost to you. I appreciate your support.
Cherrybrook Dog Grooming Products
iGroom Pet Skin Rescue
My top choice for a pet skin care moisturizer for my dogs is iGroom Skin Rescue. This fantastic, pet-safe, and unique moisturizer is made from natural and organic ingredients.
Product Features:
Ingredients: Mango butter, pomegranate oil, beeswax
Protection: Shields from sand, heat, cold, salt, and heat
Packaging: Airless pump jar for contamination prevention
Application: Suitable for dog's paws, muzzles, tails, and more
Safety: Lick-pet safe, won't sting dog's eyes, gentle for sensitive dog skin areas
Pros and Cons:
Pros: Natural ingredients, versatile application, environmentally sustainable
Cons: Limited size options, slightly premium price (but so worth it)
Natures Specialties Re-Moisturizer with Aloe
With all of my dog's outdoor activities, especially swimming, Nature's Specialties Re-moisturizer with Aloe, a professional-grade pet coat and skin care product, helps rejuvenate my dog's coat and skin.
Product Features:
Adds fast and deep moisture
Relieves itchy skin
No oily or waxy residue
Trusted by grooming professionals
Made in the USA
Pros and Cons:
Pros:
Quality and quick results
Professional groomer's trust
Versatile for all breeds
Cons:
Slightly pricey (but so worth it)
Crown Royale Bodifier Texturizing Spray
Elevate your pet's grooming routine with the texturizing spray from Crown Royale Bodifier. This spray adds shine, prevents breakage, and eliminates static in your dog's coat.
Product Features:
Application: Texturizing spray concentrate
Dilution Ratio: 7:1
Strengthens Coat: Yes plus prevents breakage
Formulas: Concentrate and ready-to-use options
Origin: Made in the USA
Pros and Cons:
Pros:
Enhances coat texture.
Strengthens and prevents breakage.
Easy-to-dilute concentrate.
Cons:
No ready-to-use options (you have to make the solution spray – Read: How To Use Crown Royale Bodofier)
This is the 'secret' spray I use to keep the fur of my double-coat golden retrievers KB & KENZO, shiny, healthy, and always looking great.
Chris Christensen Heavy Duty Double Action Trigger Spray Bottle
A must-have spray bottle! This Chris Christensen heavy-duty spray bottle features a time-saving double action trigger, spraying when you squeeze and release, minimizing effort.
Product Specifications:
Spray Mechanism: Double Action Trigger
Material: Heavy-duty, Durable Plastic
Design: Stable Large Bottom, Comfortable Handle
Capacity: Standard Spray Bottle Size
Pros and Cons:
Pros:
Effortless Operation
Sturdy and Durable Material
Time-Saving Tool
Cons:
A bit pricey (but so worth it)
Cherrybrook Dog Grooming Products: Pin Brushes
Chris Christensen Dog Pin Brushes
I have purchased and used many brushes, and Chris Christensen dog pin brushes stand out as the best.
Chris Christensen pin brushes are highly recognized in the pet grooming industry for their exceptional quality and effectiveness.
I shared in a previous post, 'What Sets Chris Christensen Dog Pin Brush Apart?' and 'Why You Will Love Chris Christensen Dog Pin Brushes?', these dog pin brushes are perfect for everyday use, keeping your dog's fur looking nice.
My dogs, KB & KENZO, love being brushed daily. They always receive lots of compliments on how their coat looks so nice and healthy.
Currently, I use these three Chris Christensen pin brushes for my dogs.
1. Chris Christensen Original Series Oblong Brush
You can read our my detailed review on this post: Ultimate Dog Grooming Gift: Personalized Chris Christensen Dog Brush
2. Chris Christensen Oval Breezy Brush
Elevate your dog grooming experience by using the Chris Christensen Oval Breezy Pin Brush, a favorite among many professional pet groomers.
Product Features:
Oval-shaped for comprehensive grooming
Pad options: Firm (pink), Medium (green), Soft (purple)
Rounded and grounded metal pins
Lightweight, durable beechwood handles
Available in 16mm and 22mm
Origin: Made in Germany
Pros and Cons:
Pros:
Efficient oval shape
Lightweight and durable
three kinds of pad options
Cons:
Higher price tag (but so worth it)
Chris Christensen Breezy Brush
You will love this dog brush for its effectiveness in daily grooming.
3. Chris Christensen Mark Slicker Brush
The Chris Christensen Mark Slicker Brush is gentle on your dog's coat with its top-notch steel pins.
Product Features:
Material: Beech Wood and High-Grade Steel Pins
Cushion: Soft with One-Fourth Inch Foam Base
Handle Design: Easy on Your Wrist
Purpose: Minimizes Coat Damage
Pros and Cons:
Pros:
Easy on the wrist
Gentle on the coat
Cons:
A bit pricey (but so worth it)
If you are serious about your dog grooming and want the best for your dog, this top-notch slicker brush is a smart buy and one to get.
Check out other Cherrybrook's Chris Christensen Dog Brushes
Bonus: Cherrybrook Breed Embroidery
For pet parents who wants to showcase their love for their dog's breed, Cherrybrook offers a distinctive line of breed-specific embroidery products such as this cooler tote.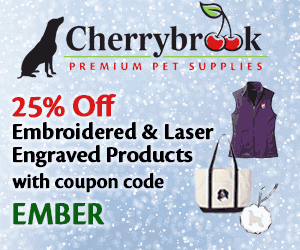 Definitely, the special breed design give a unique touch and making these Cherrybrook Breed Embroidery pawsome gifts for yourself or your friends who love dogs.
Embroidered XL Topanga Cooler Tote
This fashionable Embroidered XL Topanga Cooler Tote tote is a practical accessory I use when traveling with my dogs. I can pack their weekend meals and also include all their toys and essential grooming products.
Product Features:
Durable 600D polyester exterior.
Heat-sealed, water-resistant PVC interior liner.
24-can storage capacity.
Dimensions: 21" x 13" x 8.7".
Unique embroidered dog image on the exterior pocket.
Pros and Cons:
Pros:
Stylish and personalized design
Spacious interior with leak-resistant lining
Materials meet federal and state safety standards
Cons:
2 weeks for delivery
High-Quality Cherrybrook Dog Grooming Products
You can easily groom and make your dog look like a show dog using these dog grooming products from Cherrybrook Premium Pet Supplies.
Cherrybrook provides high-quality dog grooming products, ensuring an enjoyable grooming experience for both your dog and you as a dog owner.
We invite you to check out these dog grooming products and explore Cherrybrook's website for other premium pet products and gift ideas. Also, check out their educational page, where they offer informational blog articles and webinars on how-to's.