Does Renters Insurance Cost More if You Have Pets?

As a pet parent, you may be curious about whether owning a cat and dog can lead to a higher cost of renters insurance. In today's article, we will explain what renters insurance covers related to pets, and whether pets increase the cost of your plan.
Does renters insurance cost more with pets?
Yes, renters insurance does cost more with pets. We found that on average, renters insurance costs $38 more per year with a pet.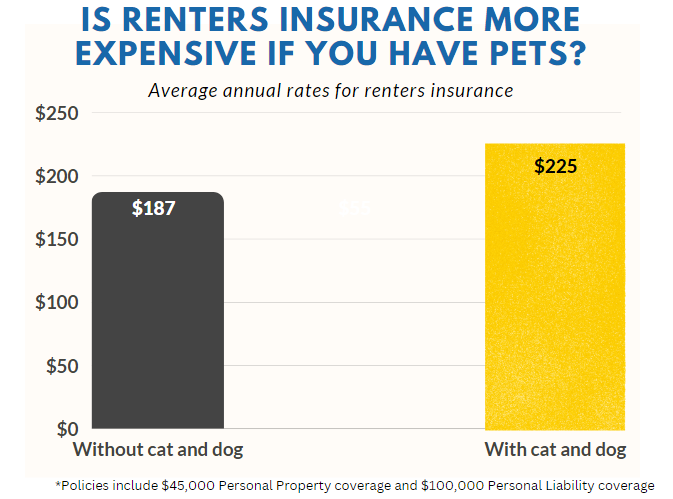 It's essential to understand the underlying reasons why pets raise the cost of renters insurance, and how you can minimize those expenses.
The cause for the increase in renters insurance cost for pet owners is linked to the heightened risk of liability associated with owning pets. Pets, especially dogs, can be unpredictable and may cause property damage or physical harm to individuals. If your furry friend causes any damage to your rental property, your landlord may hold you liable for repair expenses. If your pet injures someone, you could be responsible for their medical bills and other damages.
How does renters insurance cover pets?
The two main types of renters insurance coverages are personal property and personal liability.
Personal property
As the names suggest, personal property covers the damage to your personal property.
Personal liability
Personal liability covers you up to a certain amount if someone decides to take legal action against you if they were injured on your property. This would cover you if your dog bites someone and they sue you.
It is important to check with your insurer to make sure that your coverage applies for pet-related incidents.
Tips for owning a pet
If you are looking for ways to save with your pet, check out some of the suggestions below.
Select a pet-friendly rental property: Make sure the rental property you select permits pets and is pet-friendly. Some landlords may require a pet deposit or pet rent, but it could be worthwhile in the long run to prevent potential liability issues.
Train your pets: Proper training could help minimize the risk of your pet causing damage or injury to someone. You may want to consider enrolling your pet in obedience classes or seeking professional training to address any behavioral problems.
Choose an insurance policy with appropriate liability coverage: Ensure that your renters insurance policy provides sufficient liability coverage to protect you in case of a pet-related incident. Consider purchasing additional coverage if necessary.
Compare insurance quotes: As with any insurance policy, it's crucial to shop around and compare quotes from different insurers. Some insurance providers may specialize in pet-friendly policies and may offer lower premiums or better coverage options.
Consider purchasing a separate pet insurance policy: In addition to renters insurance, you may want to consider buying a separate pet insurance policy to cover veterinary expenses or other costs associated with owning a pet.
Conclusion
In conclusion, owning a cat and dog can lead to an increase in renters insurance cost due to the higher liability risk involved. However, with proper training and insurance coverage, you can minimize these expenses and enjoy the numerous benefits of pet ownership. Just make sure to do your research and select the best policy for your needs and budget.